TIMELINE: Wintry mix Monday, accumulating snow possible Thursday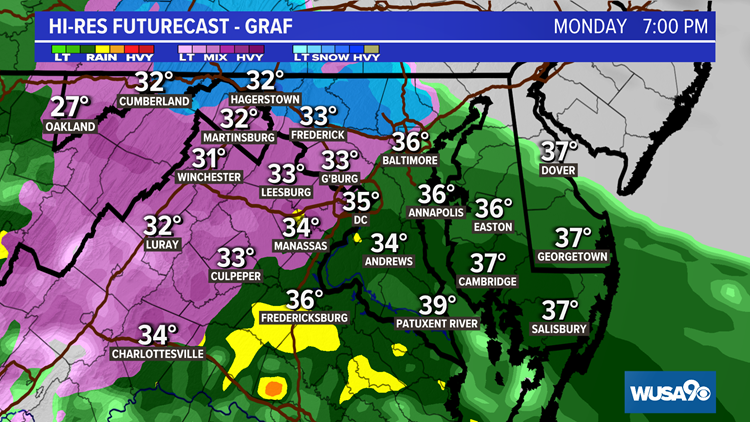 Two weather systems next week could bring snow to the region.
WASHINGTON — There is a threat for wintry weather Monday into Tuesday and again on Thursday.
The forecast of the GFS (American) and the European models both have a storm Monday afternoon/evening into Tuesday midday.
This will likely start Monday early afternoon as rain, with some areas of ice and even snow late Monday afternoon through the evening. 
The key timing is 2 p.m. Monday – 2 p.m. Tuesday. 
Timing:
Monday 1 p.m. to 4 p.m. — Rain starts across most of the region. 
Monday 4 p.m. – 6 p.m. —  Some areas north and west of D.C. experience mixing including snow, rain, sleet mainly after 4 p.m. Neighborhoods north of D.C. including Fredericksburg may experience a brief period of all snow. 
Monday 6 p.m. – 10 p.m. — Rain and mixing continue. For D.C., mostly rain with occasional freezing rain. South of D.C., mostly rain. Northern suburbs, snow and rain wintry mix. 
Monday Night – Tuesday Morning 10 p.m. – 5 a.m. — Rain continues for most areas. Areas that were getting snow and rain transition to rain with some freezing rain, especially north and west. 
Tuesday 5 am – 10 a.m. —  Most areas transition to rain. Rain becomes lighter and starts to taper off. 
Tuesday 10 a.m. – 12 p.m. — Rain ends. Clouds remain.  
There will be a lack of cold air to support getting a lot of accumulating snow Monday and Tuesday. Check out the comparing models below:
The European has backed off some of the snow and is now showing more rain mixing in across the DMV with some late Monday along the Maryland and Pennsylvania border.  
The GFS has also backed off of the threat of snow and pointing more to a wintry mix with mainly rain and some sleet and snow mixing in.  
Below is the total snow output for the next 7 days. Some of the snow in the mountains is falling through the weekend, so those totals are not all from next week's potential storm. And some of the snow is from the potential for snow on Thursday, although the bulk of the now stays well to the south of D.C. Metro. 
Another Chance Thursday
We also have a slight chance to pick up on some snow Thursday as another system moves in. There will be some cold air in place. So far the GFS is very aggressive in giving us accumulating snow. It looks like it will start off as rain and snow as early as Wednesday night, then make a transition to snow sometime Thursday morning. 
The EURO is now on board with some snow but quickly fizzles out by the early afternoon. 
The Euro and the GFS are the main global models. We also look at the UKMET (United Kingdom) and the GDPS (Canadian) models which also show some rain mixing, then some snow. We also look at some mesoscale models, which gives us data closer to the actual event, such as the NAM (North American Model). 
For us to get the BIG snow, the cold air supply from Canada and New England need to be sufficient and the storm track itself needs to be just right.
We'll continue to update this story as the forecast becomes clearer. 
So far for the 2020-2021 snow season, Reagan National airport has only recorded a trace of snow and last season they only recorded 0.6″.
D.C.'s only significant snow event this season was back on Dec. 16 when we saw several inches, mostly north and west of the District. 
RELATED: Here's what it takes to clear snow from the U.S. Capitol grounds and inauguration area
RELATED: Less windy for Sunday as we wait for Monday's storm
Sign up for the Get Up DC newsletter: Your forecast. Your commute. Your news.