'Father/son interaction' tweet about Joe and Hunter Biden is quickly memed
A ratioed tweet featuring a photo of Joe Biden kissing his son Hunter on the cheek has been turned into a meme.
The original tweet is from John Cardillo, a conservative media pundit who's perhaps best known for getting owned by Alexandria Ocasio-Cortez on Twitter in 2018 after he attempted to distort her upbringing. It features a photo of Biden and his son from a 2016 Popular Mechanics photoshoot, with the caption, "Does this look like an appropriate father/son interaction to you?" The implication being that it is somehow inappropriate to show affection for your son.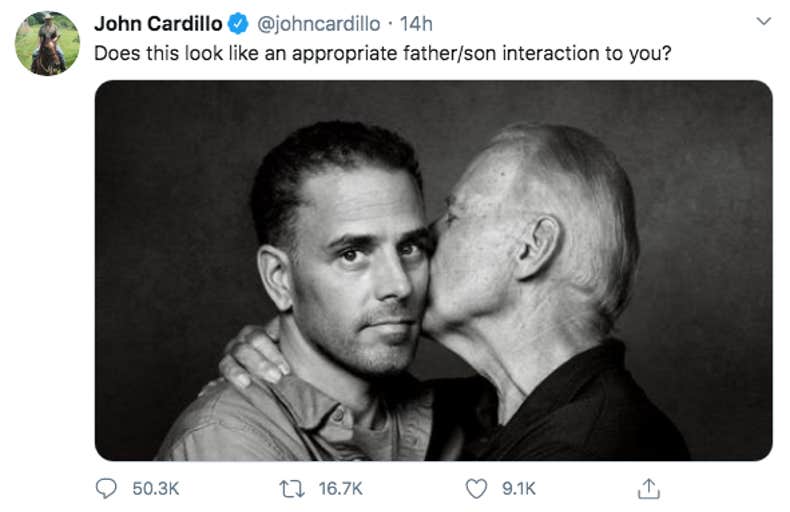 While many people responded that yes, that looks like a father expressing love for his son, Cardillo's caption was quickly applied to other examples. Scenes from Back to the Future, The Empire Strikes Back, and The Fresh Prince of Bel-Air all posed the question: Does this look like an appropriate father/son interaction to you?
And it expanded to older examples from there.
While the memes are meant to point out the absurdity of the tweet (and toxic masculinity), others responded more genuinely, citing how the picture made them miss their fathers and pointing out how many of us can't hug and kiss our parents right now.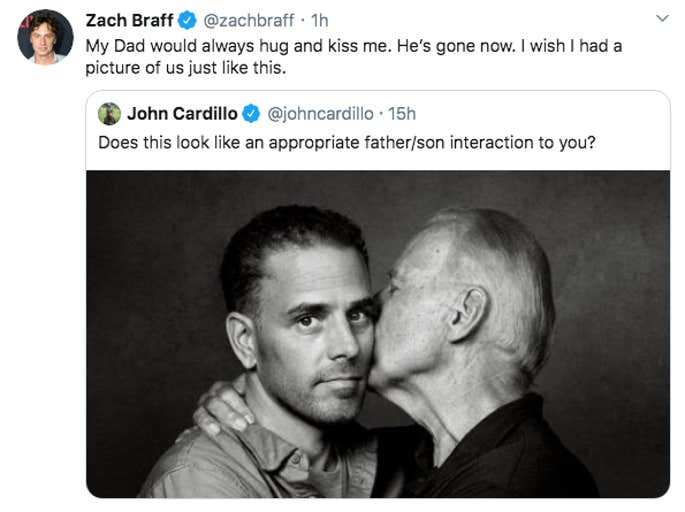 ---
Today's top stories
*First Published: Oct 22, 2020, 12:32 pm
Audra Schroeder

Audra Schroeder is the Daily Dot's senior entertainment writer, and she focuses on streaming, comedy, and music. Her work has previously appeared in the Austin Chronicle, the Dallas Observer, NPR, ESPN, Bitch, and the Village Voice. She is based in Austin, Texas.